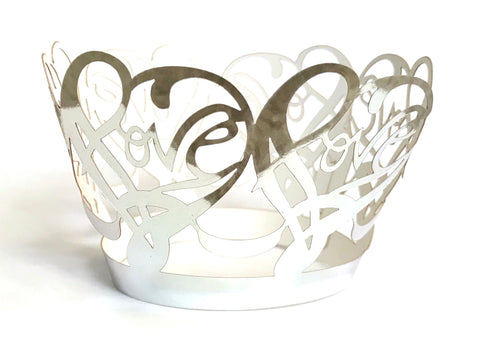 12 pcs Metallic Silver Love Heart Lace Cupcake Wrappers
Beautiful Metallic Silver Love Heart Lace Design Wrappers for your cupcakes.
You will receive:
This is a brand new 12 piece lace collar or wrapper for standard size cupcake liners.
Beautiful and elegant for weddings and special celebrations.
Cupcake wrappers made from metallic paper.
The lace wrapper measurements: 8 1/2" X 2" (flat) but will be folded around a standard size cupcake liner.
No tools or materials are required to assemble the wrappers.
Please note that one quantity equals to 12 cupcake wrappers, two quantities equal to 24 cupcake wrappers, etc.
If you need custom colors or a version in a mini size, please contact us.
---
We Also Recommend
---