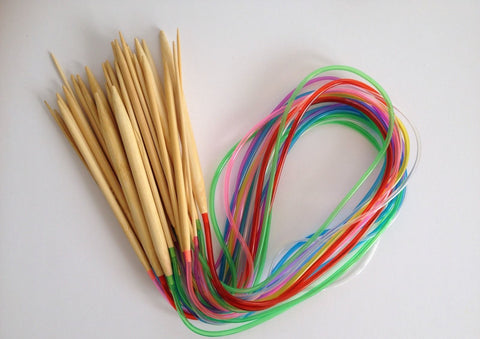 Brand New! 18 pcs Bamboo 31" Knitting Needles Finish Weave Knitting Crochet Plastic Tube Stopper Hook Colorful
Brand New Circular bamboo with colorful plastic cording Knitting Needles. You will receive all 18 knitting needles! Please select from US needle sizes US 0 (2mm) to US Size 15 (10mm).
These knitting needles:
Approximately 31" (80cm) circular needle
Knitting needle sizes: 2mm, 2.25mm, 2.5mm, 2.75mm, 3mm, 3.25mm, 3.5mm, 3.75mm, 4mm, 4.5mm, 5mm, 5.5mm, 6mm, 6.5mm, 7mm, 8mm, 9mm, and 10mm
Perfect yarn transition from tip of needle to the cord
Bamboo knitting needles with colorful plastic cording
Light weight tips
Colorful tubing
Tips do not bend and needles do not twist out of hand
Wonderful for knitters!
---
We Also Recommend
---